Behind San Diego Unified's Solar Power Struggles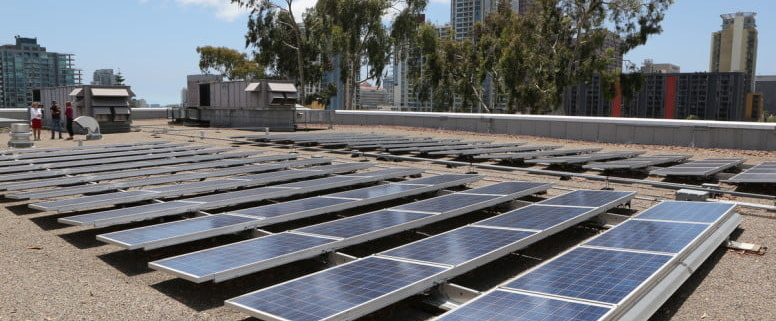 San Diego Unified School District was one of the first to deploy large scale solar and has learned some valuable lessons along the way.
Despite its struggles with solar power so far, the district is preparing to ramp up its solar footprint with a major investment of bond funds.
However, some districts like Poway and El Cajon have had near catastrophic issues with their public bonds.  While construction bonds are usually the cheapest form of capital, they have their drawbacks as well.
Bonds take a long time to develop and get approved, at least 1 year and often several.  Meanwhile energy costs keep racking up.  For some districts, that accounts to hundreds of thousands of dollars a month.  Also, with the 30% solar tax credit likely sunsetting in 2016, that means any projects built after that will essentially pay 30% higher than they should.
After all that time and expense developing a bond, voters may not even approve it.  With taxes creeping up every year, many voters are worn out from being saddled with new taxes.
Fortunately, 3fficient's Project FreeCharge™ has the answer – and the best of both worlds.  With the next lowest cost of capital, FreeCharge™ can fund projects within 30 – 60 days.  That means a hasty end to unnecessary utility costs and fees.  Since the capital comes from private sector grants, foundations and investors, the 30% tax credits can be utilized to reduce capital costs.  Better yet, return expectations are low which means the cost savings (or solar revenues) for schools and other public agencies and qualified non-profits will be much higher than a traditional PPA (Power Purchase Agreement).  Better still, the funding can be allocated in smaller, bite sized increments to keep spending under control and manageable.  When allocated for energy or cost saving measures like efficiency and renewables, the funding won't affect credit ratings.
We hope that other school districts will learn from other's challenges and participate with 3fficient's new capital funding while it lasts.  Will this be the tipping point to end the utility's death grip on school budgets?  We hope so.
https://mlnys0lved5u.i.optimole.com/Xvn2Iq8-tyk9o_So/w:776/h:517/q:90/https://3fficient.com/wp-content/uploads/2015/12/Solar_School_131-e1438214102568.jpg
517
776
Admin
https://3fficient.com/wp-content/uploads/2020/12/3fficientWeblogo2.png
Admin
2015-12-01 00:47:09
2019-08-05 16:55:06
Behind San Diego Unified's Solar Power Struggles